About Summerlin Real Estate
Summerlin is known as one of the top Master Planned Communities. It's growing abundantly. This strong, developing community is located in the western side of the Las Vegas Valley.
Learn about Summerlin Home Values and what Your House might sell for with the:
Summerlin Real Estate Market Report.
Summerlin has a lot to offer.
The area has plenty to offer in health, wellness, fun and fitness ranging from its extensive biking trails, casino resort and spa, and the downtown shops with outdoor movies, to yoga classes and a weekly outdoor farmer's market.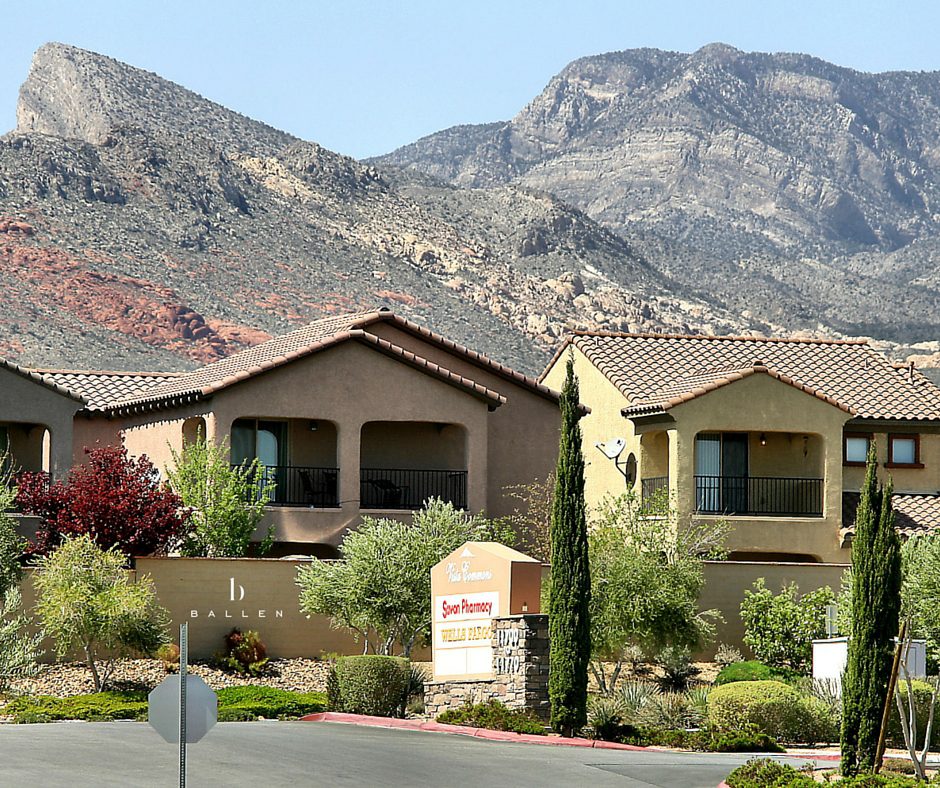 Summerlin is a 22,500-acre master plan community in Las Vegas developed by the Howard Hughes Corporation. It is near the Red Rock Canyon National Conservation Area. The views are scenic as it sits at a higher elevation. Many of the residents use the trails for biking, getting outdoors and staying active. This community has provided he best for a health and wellness based community.
Summerlin welcomed it's own shopping mall called Downtown Summerlin. The 1.6 million-square-foot shopping, resort hotel, casino, dining and entertainment offers something for everyone.
As one of the most affluent areas in Nevada, the average household income has been reported as $139,000. Voted as "Best Place to Live in America," by Money Magazine, the community has seen an increase in residents. In 2000, it had 59,000 residents, but by 2010, this number jumped to 100,000. Recent success in the Summerlin area can also be attributed to Downtown Summerlin.
Related Article: Feel Alive at 55: The Summerlin 55+ Communities
Summerlin Zip Codes
Summerlin Real Estate Listings
The Arbors

Shop Homes for Sale in The Arbors
Village: Summerlin North
Location: Charleston to Summerlin Parkway between the 215 and Anasazi.
Years Built: 1998 to 2001
Current Listings and Homes for Sale by Price Map of The Arbors: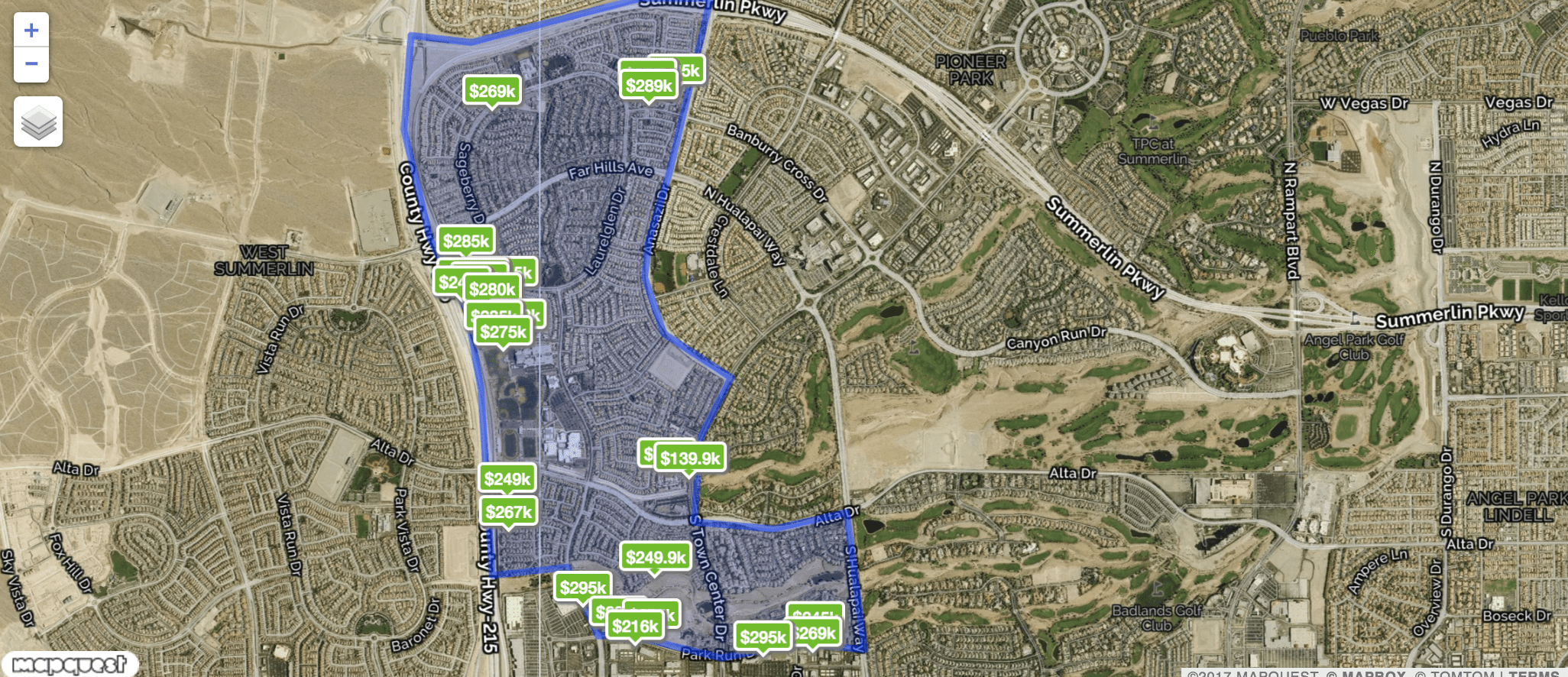 The Canyons  Homes for Sale by Neighborhood

Shop Homes for Sale in The Canyons
Village: Summerlin North
Location: Between Canyon Run to Alta Drive  and Between Hualapai Way and Rampart
Years Built: 1998 to 2006
Current Listings and Homes for Sale by Price Map of The Canyons.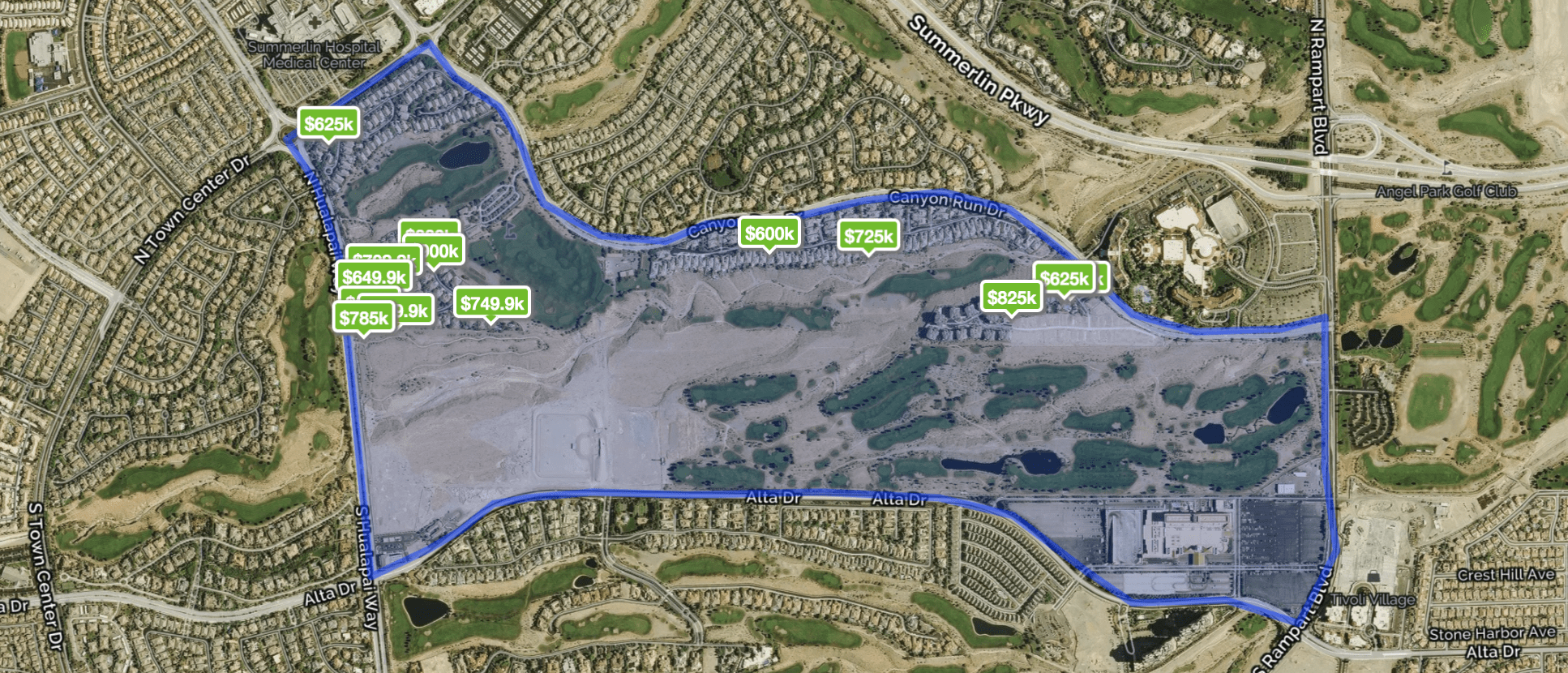 The Crossing

Shop Homes for Sale in The Crossing
Village: Summerlin North
Location: Between Summerlin Parkway, Anasazi and Town Center
Years Built: Mid to late 90's
Current Listings and Homes for Sale by Price Map of The Crossing.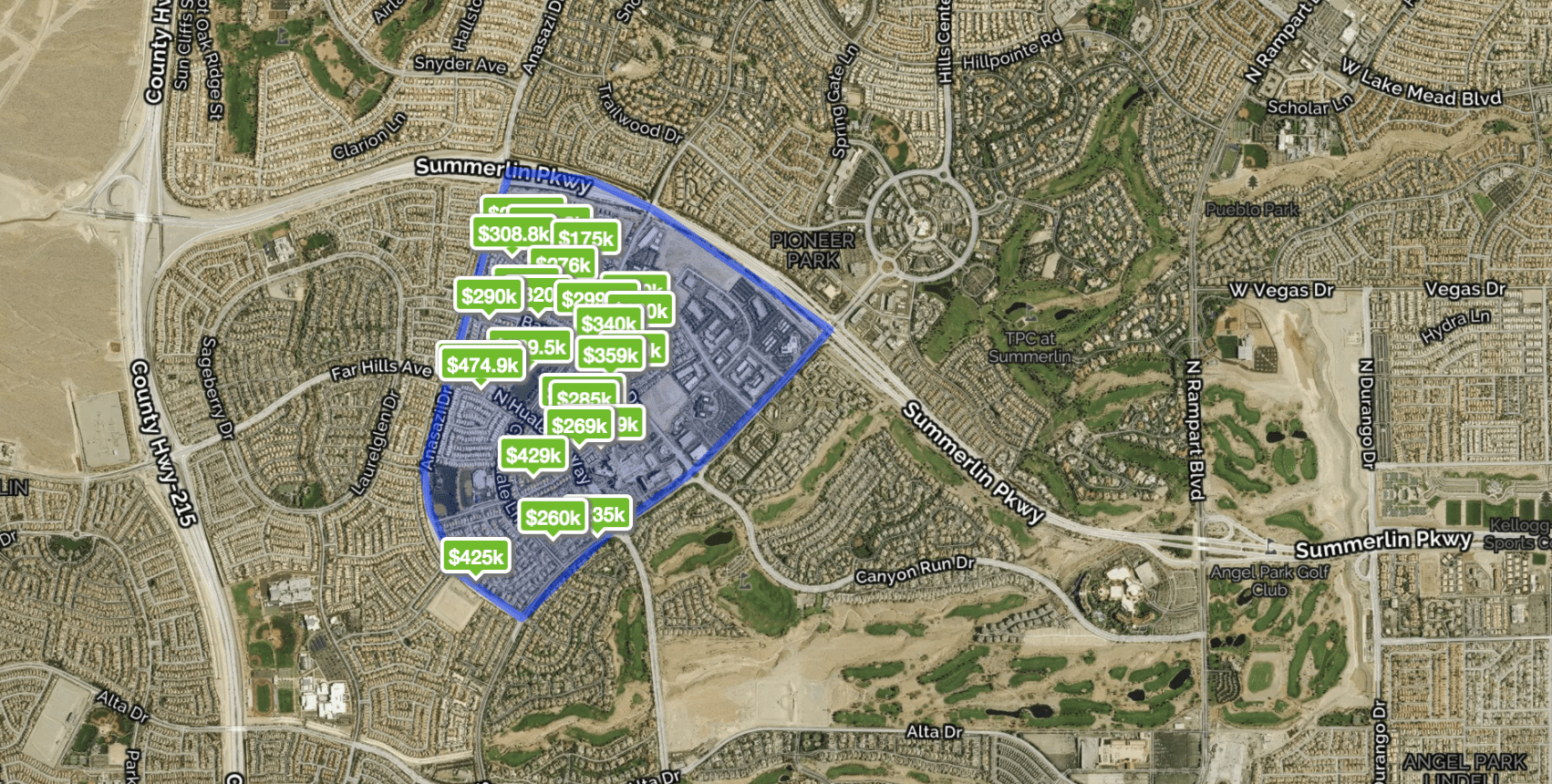 The Gardens
The Hills

The Hills South
The Mesa
The Paseos

The Pueblo Homes for Sale by Subdivision
Ridgebrook Houses for Sale
The Ridges Houses for Sale by Neighborhood
Summerlin Centre Homes For Sale by Neighborhood

The Trails Properties for Sale by Subdivision
The Vistas Homes for Sale by Neighborhood

The Vistas, a Summerlin Village in Las Vegas 89138
The Vistas Village, located on the west side of the 215 Beltway, is one of the highest villages in Summerlin. At about 3000 ft. it is also significantly cooler than other parts of the Las Vegas Valley. During summer the temperature here is about 10 degrees F. lower than the temperature on The Strip.
The Willows
History of Summerlin
In 1990, the Summa Corporation began building on the land originally owned by Howard Hughes. He purchased the original 25,000 acres in the mid 1950s.
Development would begin and would lead to nine golf courses, 150 parks, a complex 150 mile trail system where you will find many cyclists, over 12 houses of worship, medical centers, public and private schools, several shopping centers and business parks.
There were a total of 31 planned villages to complete. With views of the Las Vegas Strip, the atmosphere in Summerlin is breathtaking whether you are cycling one of the trails, or you are hitting the back-9 on one of their golf courses.
The Summerlin Parks, Pools and Trails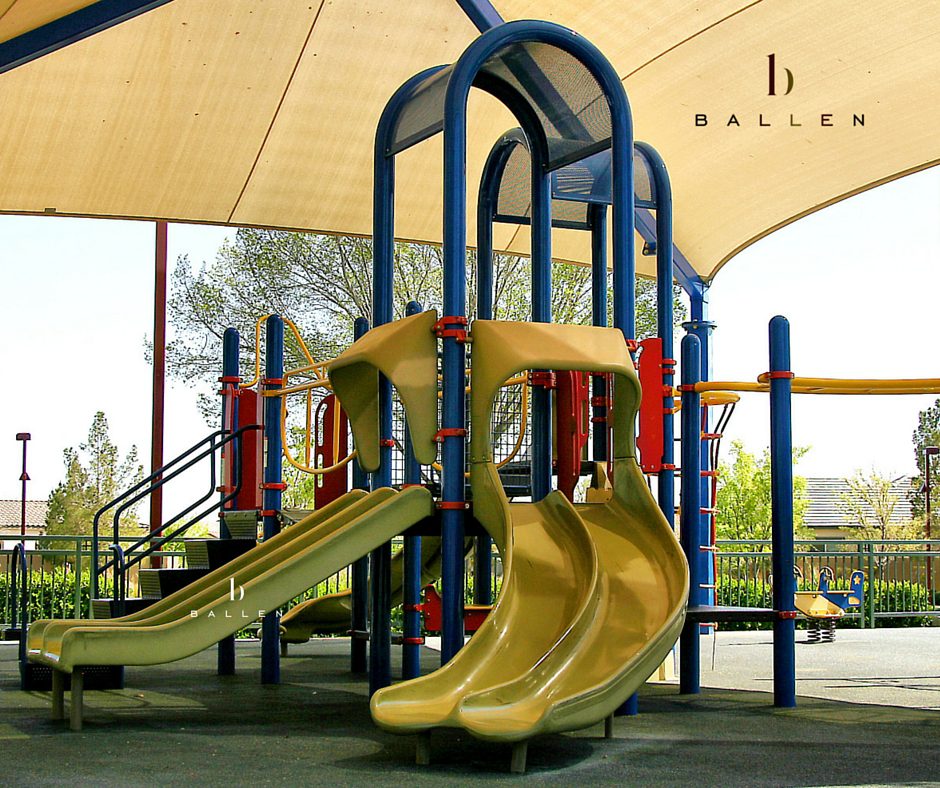 With over two dozen parks, there are small development parks, as well as larger community parks for all residents to access and you will find that each development in Summerlin has its own parks, community center and facilities. Common amenities include: basketball courts, playgrounds, tennis courts, football fields, shuffleboard courts, sand volley courts, swimming pools, bocce ball and horseshoes.
Each development has a community center. You can find barbecue stations, water spray areas and courses for hiking, biking, and tricycle courses for the kids.
The pools are owned and operated by the Summerlin Council and include the Willows Pool, the Trails Pool, and the Pavilion Center Pool which is separately operated by the city of Las Vegas.
The Summerlin resort hotels and their amenities include:
Element Las Vegas:
Located close to the Bear's Best Golf Club, as well as the Siena Golf Club
Smoke-free hotel.
Free breakfast and Wi-Fi in public sections of the hotel.
Meeting and Conference rooms
Pool, Gym, fitness center and suites options.
This is a family friendly hotel that offers a full kitchen set-up in rooms and welcomes families if you want to cook and entertain.
JW Marriott Las Vegas Resort and Spa:
Set on 50-acres
Adjacent golf course and amazing views of the greens
Waterfall, whirlpools, an outdoor pool, adjacent spa
Adjacent casino
Red Rock Casino Resort Spa:
2 Miles from Red Rock
11 Miles from the STrip
Plush Rooms, Wi-Fi, Soaking Tubs
Prvate Patios
Adjacent Pools
Spa and Fitness Center
Suncoast Hotel and Casino: Located near the Badlands golf club and Angel Park, this resort hotel and casino has floor to ceiling rooms, soaking tubs and top amenities like an outdoor pool, fitness center and whirlpool tub. As this is a child-friendly hotel, they offer a movie theater, a bowling alley, an arcade. With restaurants on-site you can pick from Mexican food, steakhouse dining or an oyster bar.
Summerlin's Newest Attraction: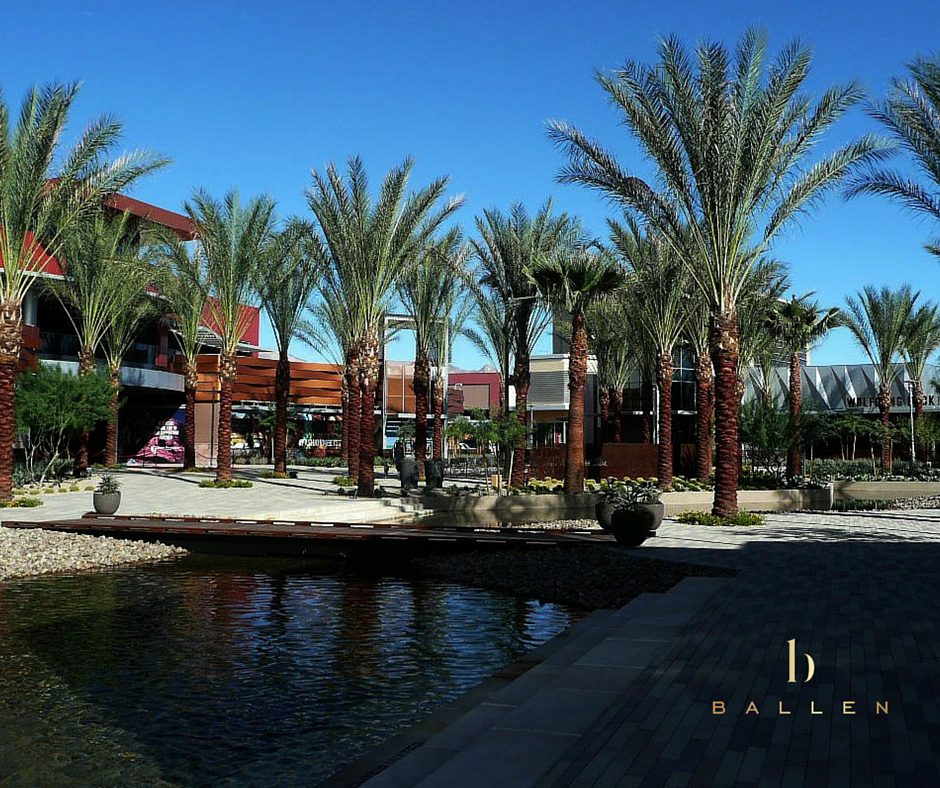 Downtown Summerlin With over 125 stores, eateries, and venues, the Howard Hughes project helps to support the affluent Summerlin community. Some may speculate that Summerlin's recent rise in home sales can be attributed to the Downtown Summerlin area.  It offers retail experiences and entertainment venues to the residents of Summerlin.  It offers dining options, shopping stores, office suites, entertainment venues and housing in an urban environment. Location: Charleston Boulevard, Sahara Avenue, Town Center Drive and the 215 Beltway.
Noteworthy Things to do in Summerlin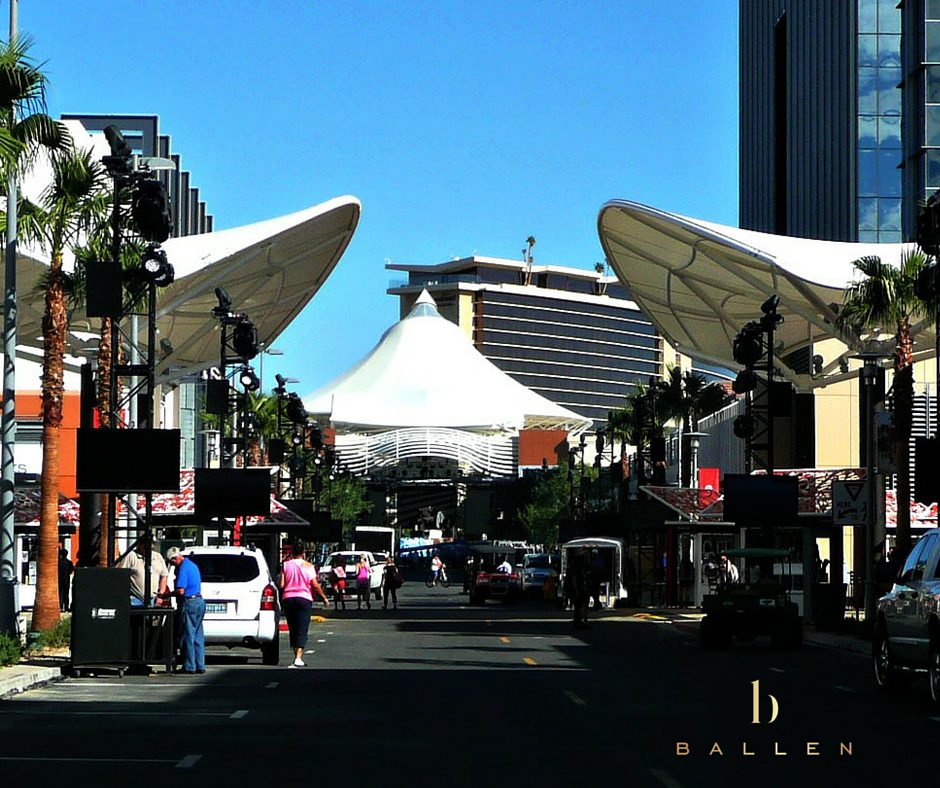 Cinemas: Check out the latest movie in 2D, 3D or IMAX. Red Rock Casino Resort and Spa: With a casino, hotel, day spa, pool with cabanas, bowling alley, kids area and buffet, you might not want to leave. In addition, The casino also offers movies, shopping, meeting and concert venues. Summer Screen:
Outdoor movies are shown in this open area every Thursday. It's a great family atmosphere, and you can spend time with the kids.
The Constellation: The name references the Lockheed airliner, and serves as an upscale permanent apartment and townhouse residence with a masseuse, aesthetician, spa, cabanas, fitness center and pools. With sixteen different 3-story buildings, they offer 4 to 15 apartment units each. Some come with their own attached garages. Additional amenities include the cabinetry, plumbing, and lighting that are all high-end appliances.