Estates at Southern Highlands
The Estates at Southern Highlands is a beautiful guard gated, master-planned community that will transport you to another world. You know this place is special as soon as you enter the community on cobblestone streets and view the perfect luxury homes waiting for you. The homes draw you in with an unprecedented collection of custom estate lots designed specifically for our distinguished clients. However, it is the larger community that welcomes in your family that will enable you to create a life here.
Amenities include everything you need for a harmonious life amid the rolling Nevada hills that rise up in your backyard. There are two schools, a fire station, shopping and a Country Club available right inside the community. The Southern Highlands Golf Club wraps around the 42,000 square-foot, Tuscan clubhouse.
The Estates at Southern Highlands are landscaped with lush greenery. Maple, Olive, Oak and Mesquite line the mediums throughout the area, providing shade and curb appeal. The Estates at Southern Highlands boasts a private spa and golf club as well as concierge services. Roving roving security maintain safety and security.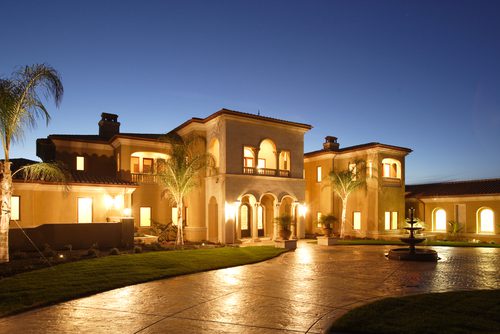 The exclusive private golf course has a strict limit of 360 members ,who receive the finest personalized service. Amenities include private locker facilities, shoe-shine service, luxury car wash, steam room access, library, wine room and luxurious dining facilities, as well as access to five spacious 2-bedroom cottages available as vacation residences for guests and members.
This vast 13,000 square-foot club has state-of-the-art facilities that offer yoga, pilates and sculpting classes, that can be followed up with wonderful spa treatments. The 25-meter lap pool has private cabanas with color TVs and refrigerators for a perfect afternoon by the pool.
There is a waterfront business plaza with a number of luxury boutiques and restaurants to offer a convenient and luxurious dining close to home.
The properties at The Estates at Southern Highlands range from one-half acre to two acres. Custom lots begin at $500,000, with luxury homes around the same price range. A custom home will cost a little more and starts at $2 million. Considering the landscapes, easy access to Interstate 15, and proximity to the Las Vegas Strip, this great community with unbeatable amenities and services is a great deal. Come visit us today to see how you can join our community and come home to The Estates at Southern Highlands.
Where is The Estates at Southern Highlands Neighborhood?
Located in the Southwest Las Vegas Zip Code 89141, The Estates at Southern Highlands is at the Southern Highlands Golf Club. Streets include names like Eagles Landing Lane and Castle Oaks Court.