Nevada Trails Homes For Sale
View all Las Vegas Real Estate today at http://www.BallenVegas.com and see all houses listed in the Las Vegas MLS. Call 1-800-805-8354 to Buy or Sell a House in Las Vegas, North Las Vegas or Henderson today.
Nevada Trails Homes For Sale
Nevada Trails consists of three distinct and beautiful neighborhoods: Acacia, Ashwood, and Mesquite. There is a newly built school, known as the Steele Elementary School within easy access of the Nevada Trails Park close to all three neighborhoods in Nevada Trails. The Nevada Trails Park is also close by and boasts some of the most beautiful scenery in the area. The area was built exclusively by Pardee Homes, which has a reputation for building some of the most prestigious homes in the Las Vegas Real Estate Market to date. Residents love to take their dogs on long walks in the parks that surround the area and take in the beautiful scenery which graces the community of Nevada Trails. The community won a Water-Efficiency Landscaping Award, given by the Southern Nevada Water Authority in 2005. They also have an Energy Star rating for efficiency as a green-friendly area of Las Vegas as well. One of the things people love most about the Nevada Trails area is the fact that they are so close to all of the excitement of nearby Las Vegas, without having to deal with all of the traffic and hustle-bustle of the city itself.

Nevada Trails

LAS VEGAS HOUSE VALUES – WHAT'S MINE WORTH?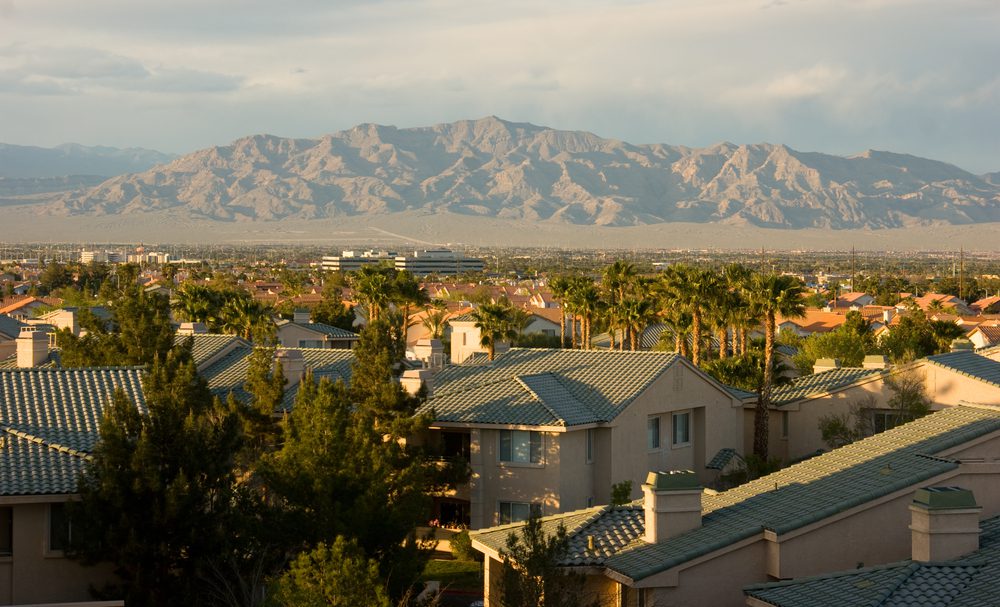 Looking for a change? Are you looking to move to an area that has all of the amenities of the big city life of American's favorite town for excitement? If you are looking for one of the best rated, top-quality Las Vegas neighborhoods with all of the amenities, come to Nevada Trails. Nevada Trails is a community which was established a few years ago, which is well-known for the beautiful scenery which graces the entranceway of Robindale Blvd, between Buffalo and Rainbow. Nevada Trails Las Vegas is located south of the 215 beltway off of Rainbow Blvd. It is located across from the Corando Ranch.
HISTORY OF THE COMMUNITY
The community is well-established and and is considered one of the best Las Vegas neighborhoods. It was created to be a respite from big city life and noise, while also offering all of the amenities that Vegas has to offer. The community boasts 1432 homes in the area, which vary between 1418 square feet to 5542 square feet in size. Some subdivisions are gated while others are not. The homes are all carefully planned and landscaped, to show off the high-quality tastes of people in the neighborhood, while also offering a quiet escape from the city's fast-paced environment.
LAS VEGAS REAL ESTATE MARKET
Due to the vast range of beautiful homes in the Nevada Trails area and the various price options and high quality, homes in the Las Vegas neighborhoods tend to sell quickly. But there are always plenty more to choose from.   There are plenty of walking trails, as well as parks and recreational facilities within walking distance of the area, making it an ideal place to work and play.   There are 4 private schools ranging from Pre-K-12 within 3 miles of the community. There are also 6 pre-schools located within 5 miles of Nevada Trails.
SHOPPING IN NEVADA TRAILS AREA
There are several places to shop in the Nevada Trails area, including the Trails Village Shopping Center, just a few minutes from the Nevada Trails location, as well as other shopping locations in the Acacia part of the community. The Trails Village Shopping Center is a favorite of people who live in the Nevada Trails community and surrounding areas.
ACTIVITIES IN THE AREA
There are many activities which young people can get involved in as well including basketball leagues, cycling, running, and hiking activities, and many other sports organizations for children and young people. It is a master-planned community and focuses on the good life for its residents, and strives to offer a variety of activities that will please any taste, without having to drive into the city of Vegas. But for those who do, there is only about a 10-15 minute commute downtown to the Strip and downtown airport and amenities, and residents can enjoy the local nightlife of The Orleans Hotel and Casino. The area also enjoys bowling, dining, and every form of entertainment imaginable.
A GREAT PLACE TO CALL HOME
If you have always wanted to live in the Las Vegas area, but you do not want the level of activity the main city brings, consider the Nevada Trails area. It is one of the best Las Vegas neighborhoods available and carries with it endless things to do, as well as a calm retreat from city life that is second to none. You will be able to send your kids to school in the nearby public or private schools, which have a reputation for excellence, while living and working in a well-established, prestigious community that prides itself of uniqueness of spirit and endless opportunities for growth, socialization, and change. Connect with a Las Vegas Real Estate market agent today and tell them that you'd like to find out more about the Nevada Trails community and one of the fine Las Vegas neighborhoods in the area. They will be able to sit down with you, plan your floor plan and budget, and get you in the home of your dreams. Happy trails to you and welcome to Vegas. You will see with all of the amenities plus some of the most beautiful scenery in Nevada, Nevada Trails is a great place to call home.